Templars, We Invite You To 2 Events:
Please join us at this year's OSMTJ International Convent in Norway August 21st – 23rd.
You're also invited to our United States Annual Convent October 23rd – 25th.
For more info or to RSVP please email: info(at)OSMTJ.net
============== Past Events ===============
Narragansett Stone Opening Ceremony
You are all invited to the opening ceremony for the Narragansett Stone at Updike Park, Wickford, North Kingstown, RI, (near the corner of Brown and Main streets). The stone has just been placed in the Updike Park.  To RSVP please email: info@OSMTJ.net
Date: This coming Friday Oct. 30th at Noon.
Please wear your neck cross & dressy casual attire
Forensic Geologist Scott Wolter has examined the Narragansett Rune Stone and declared that the "hooked X" symbol on it could be associated with the Knights Templar. According to Wolter, this mysterious stone uncovered in 1984 in Pojac Point, contains markings linked with the members of an ancient secret society – http://www.newhistorian.com/knights-templar-linked-narragansett-rune-stone-markings/1158/
The following people will be in attendance:
1) History 2 Channel's Host of "America Unearthed": Scott Wolter – Speaker
2) Templar Author David Brody​ – Speaker
3) Local politicians from North Kingstown,
4) Kingstown Historian Perry Cranston
5) Reporters from the Providence Journal,
6) Newport Tower Museum Curator Jim Egan,
7) Grand Prior Bryant Jones, Seneschal Caesar Johnson​, Prior Daniel Berry, Chev. John Emmons​, and Chev. Earl Marrion, & Chev. John.
See the hooked X on the Narragansett stone below.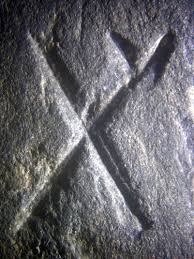 Read more: http://www.thewesterlysun.com/news/latestnews/5415769-129/fabled-rune-stone-returning-to-public-view.html
Hear Scott Wolter: https://youtu.be/DMVVndaqvgs
Newport/North Kingstown is the Epicenter of American Templarism.  Only 25 minutes away from the Narragansett Stone is the Templar Tower (Newport Tower) which you can see during the same trip.  Near the Tower, don't miss the In Hoc Signo Vinces Rock that can be viewed in the water near Fort Adams, Newport, RI (only at low tide).
Do we know if Scott Wolter is right? No one will ever know but we just see it as it as good-hearted fun.  To RSVP, please email: info@OSMTJ.net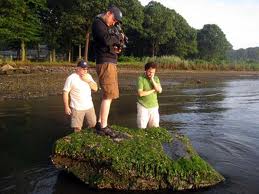 ============================
OSMTJ-USA Annual Conclave, 2015
Esteemed Brothers & Sisters of the OSMTJ-USA,
I'm excited to remind you that our National OSMTJ – USA Conclave is on Saturday & Sunday, October 3-4. 2015. Haven't yet had the honor of being Knighted? This is your time.  To attend or for more info, please email Casaer Johnson: nysecretarykt(at)aol.com (replace "(at)" with "@").
–
On Saturday, we're doing Charity work for the non-profit, "Aiding the worlds children."  On Saturday from 9am – 5pm we'll assist in security and parking management.   Sunday Oct. 4th at 8 – 9am will be our investiture ceremony.  Awards and promotions will be given at that time.
–
Dress for Saturday will be casual (jeans, T-shirts, & Sneakers).  Dress for the Sunday Investiture Service will be full regalia meaning wear formal attire (men in a dark suits, women in a dress, covered by your white Templar mantles).  This is a family friendly event with many activities that your children can participate in on Saturday.  There will be food vendors there on sat with festival craft tables vendors set up.
–
Info will be provided to anyone who is attending who is interested in helping to sponsor the event which will get them a table to set up for themselves. Saturday at 6pm will start our fellowship and dinner. There is a hotel link below in walking distance from the event. Please contact New York secretary Samuel Singh or Caesar Johnson at: nysecretarykt@aol.com. If you plan to attend this National Conclave please let us know the number coming with you . Full itineraries will be given to those who will be attending.
I look forward to the honor of meeting you in the flesh,
T. Bryant Jones
Grand Prior
–
LOCATION:
His Word Reveal Church Grounds
205 State Route 28
Kingston, NY 12401
Saturday, October 3, 2015 from 9:30 AM to 8:00 PM (EDT)
AIRPORTS:
ALBANY INT APPROX 1 hour from event
Address: Albany Shaker Rd, New York
Code: ALB
Elevation: 285′ (87 m)
Phone: (518) 242-2200
STEWART INT APPROX 1 hour from event
Address: 1180 1st St, New Windsor, NY 12553
Code: SWF
Elevation: 491′ (150 m)
Phone: (845) 564-7200
NEWARK LIBERTY INT APPROX 2HR 30 MIN FROM EVENT
Address: 3 Brewster Rd, Newark, NJ 07114
Code: EWR
Elevation: 18′ (5.50 m)
Phone: (973) 961-6000
HOTELS:
Rodeway Inn Skytop APPROX $50 NIGHT Walking distance from event
239 Forest Hill Drive, Kingston, NY, 12401, US
Phone: (845) 331-2900 Fax: (845) 331-3467
Quality Inn & Suites APPROX $ 130 NIGHT
114 State Route 28, 12401 Kingston
855 213 0582
Super lodge motel APPROX $ 79 NIGHT
Address: 129 NY-28, Kingston, NY 12401
Phone:(845) 338-4200
http://www.aidingtheworldschildren.com/2015-children-of-the-world-festival.html
============================
 Grand Priory of Scotland , Festival of St. Andrew's & International Convention (Nov. 27th-29th 2015)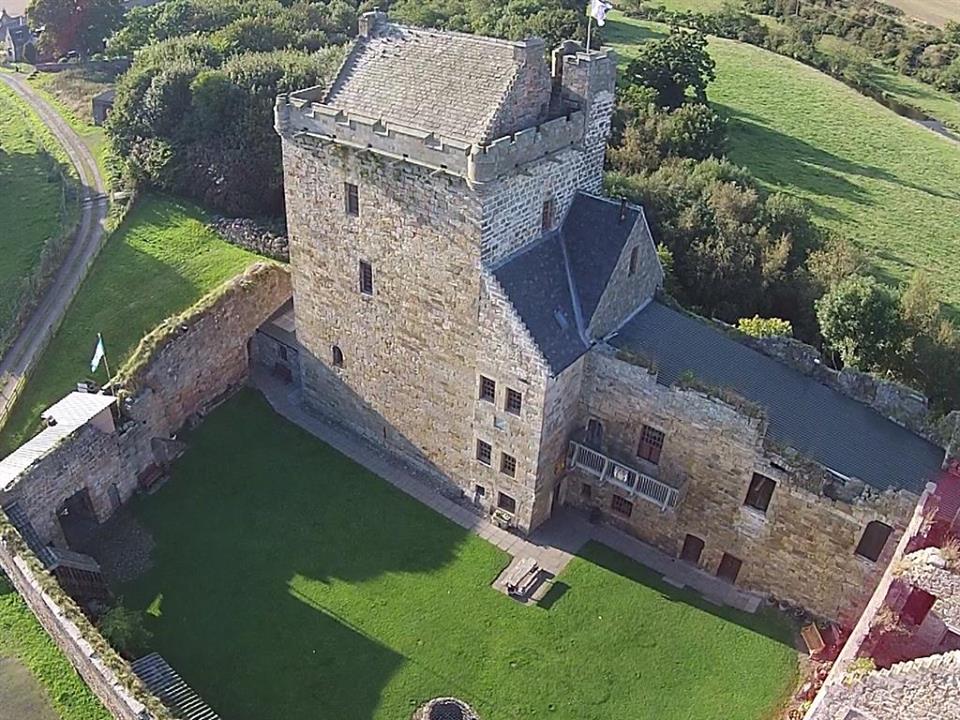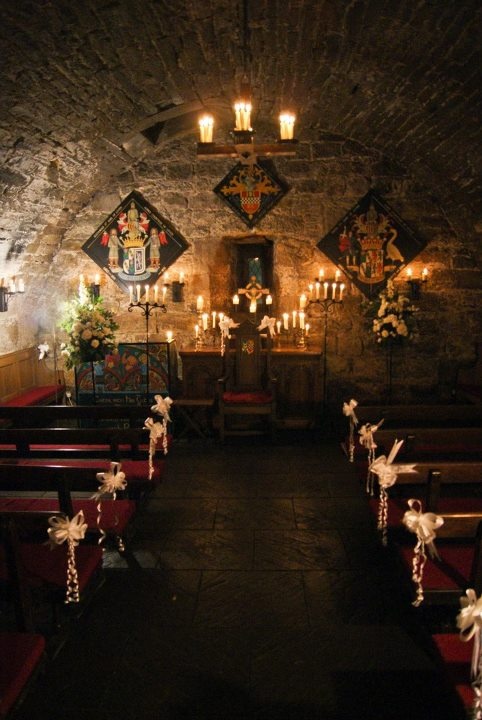 O.S.M.T.J. GRAND PRIORY OF SCOTLAND (Ordre Souverain et Militaire du Temple de Jérusalem)
Dear Members of Chivalry,
Announcing an International St Andrews Convention in Scotland on November 28th, 2015.
–
Location: Beautiful Dundee, Scotland. Haven't been Knighted yet? Why not do it in a 14th centuary Scottish Castle!
–
Location: Balgonie Castle Fife
Accommodation To Be Arranged
Formal Dinner Location: In the Grand Banqueting Hall in the Main Tower
World famous Rosslyn Chapel – On Sunday we will visit the mysterious Rosslyn Chapel to investigate the Templar secrets for ourselves.
Based on the attendance of 35 people the total cost (excluding accommodation) would be £50 for a Knight and £35 for a non knight. The ticket cost includes transport from the hotel to the church and return.
–
The room rate at the hotel is the same as last year £50 per room inc breakfast.(To be Confirmed)
Dinner is a sit down 3 course meal with vegetarian option, with tea and coffee.
Please arrive on the Friday
Friday Meet and Mingle and Registration in Hotel.

Attending & for more info or to register, please email: info@OSMTJ.net
============================
Past Events
 ======================================================================

Investiture at the Fortress by the Sea
The Investiture Florida will take place Saturday February 28, 2015 at 3:30PM at Castle OTTTIS just north of St Augustine, Florida. The Castle and Abbey is a reproduction of a 1000 year old Castle in Ireland. A few slots are still available. The Cost is 125.00 per Aspirant. Each Knight will receive the Accolade, Communion, a Letter Patent of Investiture, appropriate decoration and an 8×10 color picture of them receiving the accolade. Hotel accommodations are available at an excellent oceanfront hotel at additional cost. This is a once in a lifetime event for a Knight Templar. The receiving of the Accolade happens only once in your life as a Knight.  We look forward to seeing you there!
For more info, email: info@TheKnightsTemplar.org
Read more about Castle OTTTIS: http://www.castleotttis.com/otttishistory.htm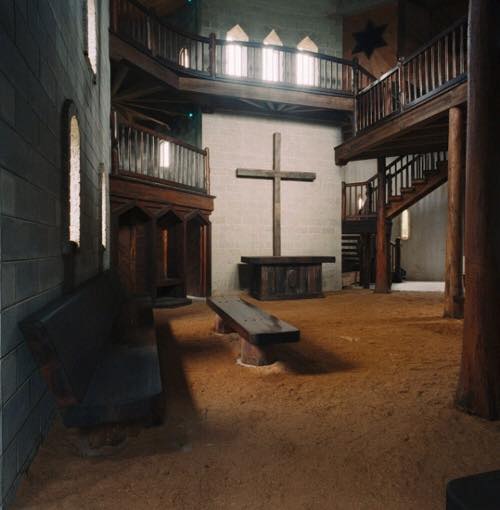 ==============================
International OSMTJ Conclave – Italy
ANNOUNCEMET:  The Regent has set the next OSMTJ International Conclave to meet in Faicchio, Italy in October, 2014 (Faicchio is a comune (municipality) in the Province of Benevento).  All are invited and we ask that you simply email: info@OSMTJ.net if you intend to come so we can send a final count.
If you want to be knighted, please let us know by emailing info@OSMTJ.net.   Those who are Knighted receive a beautiful certificate. There is a fee for the Knighting and all the details can be addressed via email.
==========================================================================
International OSMTJ Conclave, Belgium
ANNOUNCEMENT from Our Regent: You are all invited to a special OSMTJ Conclave in Brussels, Belgium July 25-31.  If you are interested in coming, please send an email to info@OSMTJ.net so we can send a count.  If you want to be knighted, please let us know by emailing info@OSMTJ.net.   Those who are Knighted receive a beautiful certificate signed by the Grand Master and there is a fee involved.
Excellencies, my lords,
His Excellency the Regent of the Sovereign Military Order of the Temple of Jerusalem decided to convene an Extraordinary Chapter Magistral to Brussels. The Conclave will be held in July between 25 and 31. You are warmly invited to attend. Timing and agenda of this chapter will be submitted by the Secretary Services Minister Magistral. With my Fraternal Greetings, Non Nobis …
———————————-
Excelentísimos señores, Su Excelencia, el Gran Maestre de la Orden Soberana y Militar del Templo de Jerusalén decidió convocar una extraordinaria Capítulo Magistral a Bruselas. El cónclave se celebrará en julio entre 25 y 31. Acoge te invitamos a esperar. Calendario y agenda de este capítulo será presentado por el Ministro de Servicios de secretaría Magistral. Con mis saludos fraternos, no Nobis …
Por Orden del,
Cristiano Conde Claes,
Supremus Praeceptor
======================================================================

Molay Templar Unity Memorial Service
Sunday, March 16th, 2014: You are invited to the 700th Anniversary Memorial of the martyrdom of arguably the greatest Templar Grand Master, Jacques de Molay. He became our Martyr and hero when he was burned at the stake for refusing to make a false confession of Templar heresy on March 18th, 1314.  This "Templar Unity Memorial Service" emphasizes "Unity," because it seeks to bring the three major Templar Orders together to show our unity in paying our respects to our greatest Grand Master.  In the spirit of de Moaly, let's put our differences behind us for a day to showcase the true Templar ethic of universal brotherhood. Please RSVP to your Order's Leader so we can update the restaurant, or to: info@TheKnightsTemplar.org Attire: Media may be present taking pictures so we ask all Templars to unify in wearing their white mantles (cloak) with red crosses on the left shoulder over warm semi-formal attire (sweaters and coats suggested beneath the mantles).  For example you can buy your mantle here: http://www.dominionregalia.com/index.php?id=20&nProductID=121&nProductGroupsID=4&nProductcategoriesID=44
Events Planned Sunday, March 16th:
10am – Optional morning church service at a local Newport church – Location to be announced. 3 pm – Memorial Observance at the Old Newport Tower – One Chaplin from each state order/Priory will give an eulogy for de Molay. 3:30 pm – Memorial Observance will be immediately followed by a history of the Old Newport Tower given by Jim Egan, Curator of the Newport Tower Museum and featured on History 2 Channel's "America Unearthed" episode.   Jim has been gracious enough to open the Museum to us at that time.  Those interested will cross the street to explore: 5 pm – Optional Dinner at the One Bellevue Restaurant at the Hotel Viking, Newport, RI: http://www.hotelviking.com/dining.aspx
Newport Tower Museum 152 Mill Street Newport, Rhode Island, 02840 http://www.NewportTowerMuseum.com/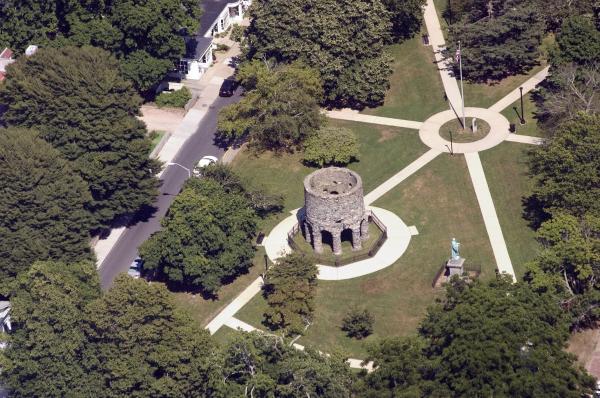 The Old Newport Tower is one of the two locations in North America possibly built by the Templars or their ancestors.  It has sometimes been referred to as "The Epicenter of American Templarism."  The Tower is Located in Touro Park at 1-50 Mill St. in Newport, RI 02840. http://www.yelp.com/map/touro-park-newport. Read more about Old Newport Tower's possible Templar history: http://www.newportri.com/features/towering-debate/article_e29b7ab0-410a-526e-a082-bfb5099aa3f4.html Or Watch the History 2 Channel episode about the Old Newport Tower:  http://youtu.be/RF7-P55s9YA If you like, make a long weekend of the event as there are many amazing attractions in historic Newport  including the incredible mansion tours: http://www.NewportMansions.org/.   If you arrive on Saturday, March 15th, at 11am thousands will attend Newport's annual St. Patrick's Day Parade: http://www.newportirish.com/parade.html. Overnight Guests, we will be seeking a group rate special at the Hotel Viking – (Watch for Update) – http://www.hotelviking.com/.  We hope to see you there!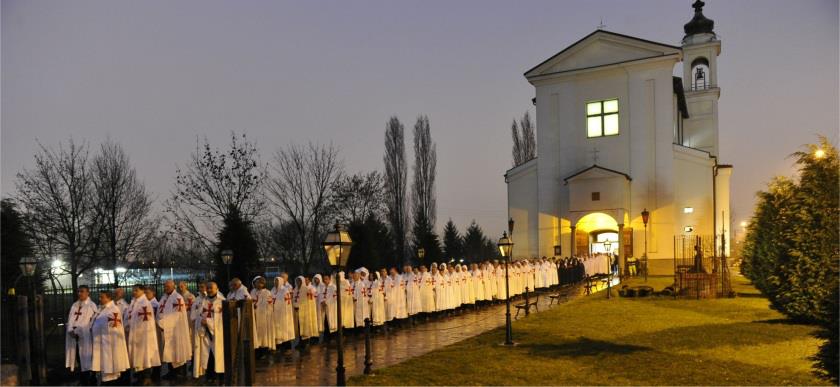 —————————————————————————————-
We would like to invite anyone interested in attending our investiture Service on Saturday, Feb. 8th at 6:30pm located in Saugerties new York. The investiture service will be an ecumenical Christian service conducted by our Chaplin. It will consist of a short service , holy communion as part of the investiture. We have 8 new Knights to be knighted . if you are a newly accepted knight and wish to participate in this service, you are welcome to come.  For more information email: info@TheKnightsTemplar.org
—————————————————————————————-
 —————————————————————————————-
April 25th – 27th – Croatian Order of The Knights Templar are celebrating  their first jubilee
It's been five years since our Priory was established.  On this occasion a thematic International Templar Conference (the fourth in a row) will be held in our headquarters in the town of Požega.  This is an opportunity to invite you to this  International Conference. By the end of this year we shall dispatch official invitations along with the list of costs that need to be paid for the three days' stay in Požega.