Chancellor USA Grand Priory
We are honored to congratulate Lieutenant General Kevin W. Mangum (retired Army) upon his promotion to Chancellor of the United States Grand Priory!  As such, General Mangum will be a huge asset where he will be assigned to the international communications network of the Order.  General Mangum was handpicked for his leadership ability and command experience by, his Excellency, Grand Master Ronald Mangum.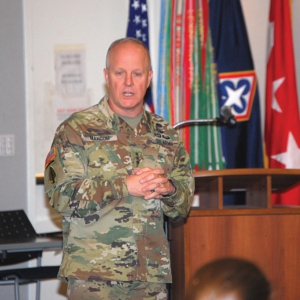 General Kevin Mangum is a retired United States Army Lieutenant General who served  as Deputy Commander and Chief of Staff, United States Army Training and Doctrine Command (TRADOC). He is a 1982 graduate of the United States Military Academy. He previously commanded the United States Army Aviation Center of Excellence.
An accomplished helicopter pilot, he was inducted into the Army Aviation Hall of Fame (Nashville, TN) in 2019 for being an exceptional pilot. The key event in LTG Mangum's Army Aviation career was being accepted into Task Force 160…the Night Stalkers… in July 1984.
After later assignment to the 101st Airborne Division, he deployed to Operations Desert Shield and Desert Storm and following graduation from the Army Command and General Staff College in 1993, he rejoined the Night Stalkers where he served another 15 years culminating in him becoming the 160th Regimental Commander in 2005.
Thirty-eight days after 9/11, Kevin was the Air Mission Commander for the longest helicopter assault in the history of Army Aviation – 13 hours into Afghanistan. From the USS Kitty Hawk, Kevin commanded twelve helicopters, into enemy territory under zero illumination, into some of the harshest terrain in the world.
His leadership of the 160th led to significant special operations aviation modernization efforts including fielding the MH-47G Chinook, preparing to field the MH-60M Black Hawk, and establishing the 160th's Fourth Battalion. In 2010 and 2011, Kevin helped create the U.S. Army Special Operation Aviation Command and became its first Commanding General.
In 2011, he headed the Army's aviation center at Fort Rucker, Alabama, the central temple to which all Army helicopter personnel return again and again throughout their careers.  For those outside the Army, that means General Mangum was like the high priest of the Army aviation community.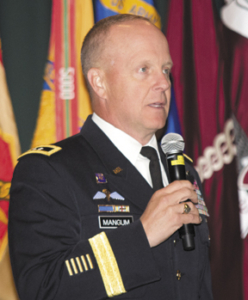 Lieutenant General (LTG) Kevin W. Mangum graduated from the United States Military Academy at West Point, NY in May 1982 where he was commissioned as a Second Lieutenant of Armor. Highlights of LTG Mangum's career include tours with 8th Army, the 101st Airborne Division (Air Assault), 2nd Infantry Division and 10th Mountain Division and two Joint tours. He has commanded at every level from platoon to Commanding General, United States Army Aviation Center of Excellence and Fort Rucker, Alabama.
After his initial tour in the 128th Aviation Company (Assault Helicopter) at Camp Page, Korea, he was selected for assignment with Task Force 160. He has since served four tours with the 160th Special Operations Aviation Regiment with duties ranging from section leader, battalion S-3 to command at company, battalion, and regiment levels. LTG Mangum also commanded A Company, 4th Battalion, 101st Aviation Regiment and 2nd Aviation Battalion, 2nd Aviation Regiment at Camp Stanley, Korea.  LTG Mangum's joint service includes tours at the Joint Electronic Warfare Center, Kelly Air Force Base, Texas and Joint Special Operations Command at Fort Bragg.
In May 2008, General Mangum was assigned to his first post as a general officer, serving as the senior commander of Fort Drum and division rear commander of the 10th Mountain Division. He served as Deputy Commanding General of 1st Armor Division and United States Division-Center, Operation Iraqi Freedom, Iraq. LTG Mangum commanded the U.S. Army Special Operations Aviation Command upon its provisional activation on March 25, 2011. LTG Mangum commanded the United States Army Aviation Center of Excellence and Fort Rucker, Alabama prior to assuming duties as the Deputy Commanding General/Chief of Staff, U.S. Army Training and Doctrine Command on 28 March, 2014.
General Kevin's numerous deployments include duty in the Republic of Korea, Honduras, Persian Gulf, Turkey, Bosnia, Afghanistan and Iraq. LTG Mangum also served as a U.S. Army War College Fellow at the Fletcher School of Law and Diplomacy, Tufts University. He holds a Masters of Business Administration from Webster University. His military awards and decorations include the Distinguished Service Medal, Defense Superior Service Medal, Legion of Merit, Distinguished Flying Cross, Combat Action Badge, Parachutist Badge, Air Assault Badge and the Master Army Aviator Badge.