Vladimirs Kovaļevskis Creating Fake Passports
Long before he was ever Secretary of the OSMTJ, back in 2013, I let Vladimirs Kovaļevskis know I had purchased Templar certificates from a Graphic Designer.  Vladimirs informed me that he was available to create our certificates next time. As you can see below in the screenshot of my Facebook conversation with Vladimirs, he bragged to me that he is a designer that can easily create our Certificates because he creates fake passports (which are apparently, much harder to create than Certificates).  The following conversation occurred on December 2nd, 2013: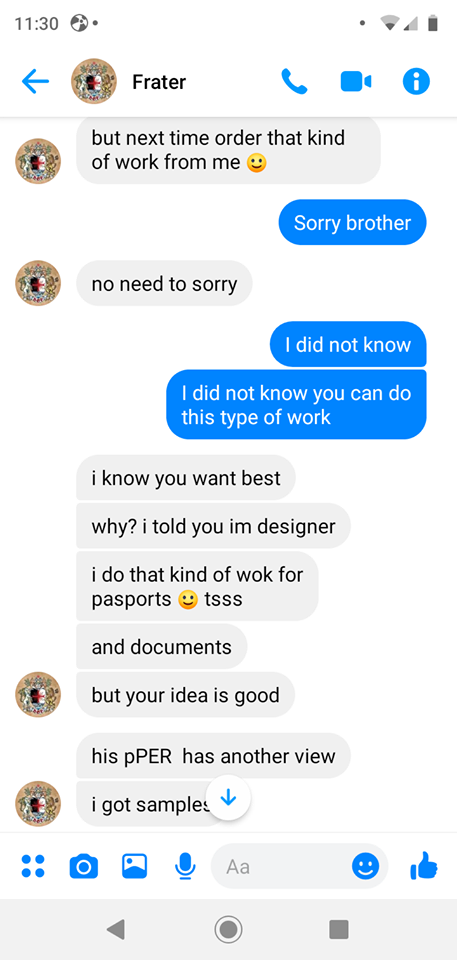 From 2011 until the time Dimitar retired from the Knights Templar in 2017, Vladimirs Kovaļevskis was the loyal assistant to Bulgarian organized crime boss, Dimitar Kotcheff,   Vladimirs Kovaļevskis claimed (and Dimitar later confirmed) he had created for Dimitar Kotcheff the following fake documents that you can view here at this link:  http://www.theknightstemplar.org/dimitar/
We engaged a Belgium Intelligence Officer, to research the background of Vladimirs Kovaļevskis as he also had contacts within the FBI of the United States. He was able to confirm that Vladimirs Kovaļevskis is on their "Watch List" for criminal activity.  See the Facebook conversation below:
Vladimirs Kovaļevskis was the loyal assistant to the one who claimed to be a "Bulgarian Organized Crime Boss," Dimitar Kotcheff.  Here below you can see my conversations with Vladimirs Kovaļevskis as he defended Dimitar Kotcheff against my discovery that Dimitar was scamming people for money using a fake prince.  At this time, Eastern Europe was rife with these types of Scammers pretending to be nobility to fool the gullible out of their money.   For more information, respected Templar Grand Prior of Portugal, Luis Matos, is knowledgeable about Bulgarian Dimitar Kotcheff, and can be consulted on this issue.  Vladimirs remained loyal to Dimitar for several more years even after evidence of the scams being conducted by Dimitar was presented. Below are screenshots of my conversations (2013-2014) with Vladimirs about his relationship with Dimitar and more screenshots can be provided upon your request:
Vladimirs Kovaļevskis's information
Phone: +371 277 877 81
His previous phone: +371 270 211 47.
Home: Vladimirs rents a flat in Riga (capital of Latvia) where he and his family lives including his parents.
Occupation: Vladimirs both works at a bank and is a Graphic Designer who creates fake passports that he sells on the Eastern European black market.
Some of Vladimiris's design work (some links broken):